Discover our routes along the Adriatic coast
Enjoy a unique cruise along the Croatian coast. You sail a route along beautiful islands, azure blue bays, various bathing places and protected nature area. Together with a captain, cook and 2 helpers you can sail in an international company in a choice of a modern or more traditional motor sailing cruise.
Our fleet always sets sail from the departure harbors of Rijeka, Zadar, Trogir, and Dubrovnik on Saturdays. You can reach all of the ports easily by car or by plane. If you arrive by car, we would be happy to reserve a parking space for you (approx. € 40-50 per week; payable in Kuna on site).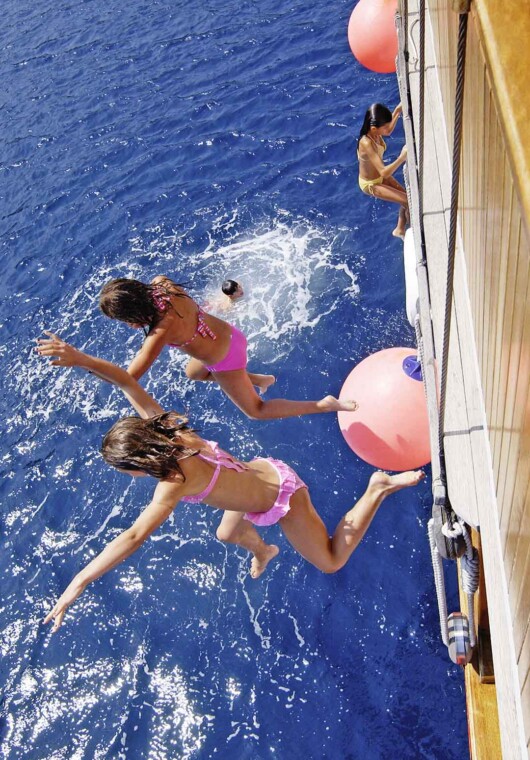 On the regular cruises, drop the anchor in secluded coves surrounded by Croatia's breath-taking landscape and enjoy a refreshing swim in the crystal-clear waters of the Adria.
On an 8-day cruise departing from Rijeka, Zadar, Trogir or Dubrovnik, you have the possibility to explore the azure Adriatic sea, hidden bays ideal for swimming and picturesque ports on the islands. With us, your holiday in Croatia is going to be a unique experience. During an 8 or 15-day cruise you will visit  beautiful islands like Krk, Rab, Lošinj and Cres in the north, or Brač, Hvar, Mljet and Korčula in the south. Visit the national parks Kornati, Krka, Paklenica or Mljet and enjoy the romantic old towns of Trogir, Zadar, Šibenik, Dubrovnik and Kotor
(Montenegro) on the coast.
Our 31 vessels set sail on Saturdays from the ports of Rijeka, Zadar, Trogir, and Dubrovnik respectively. They offer space for 13-40 passengers and can also be booked in their entirety as a charter. Hospitality and the safety of our guests are the top priorities of our captains, as the ships are the private property of their families. That's why they will personally select each crew member, sometimes with our help, but always under our supervision. This particularly applies to the "most important" man on board, the chef, who can often be found whipping up true delicacies in the ship's galleys. All ships are registered in the Croatian Shipping Register and are checked on an annual basis in a ship quality certification process which guarantees that the most stringent safety standards are adhered to in accordance with EU regulations.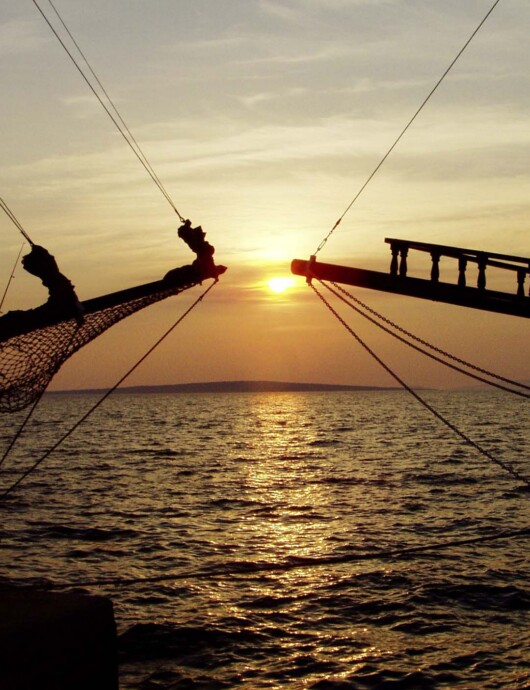 Cruising is the ideal way to visit numerous cities and places of indescribable natural and cultural beauty. If cruising is your style of a holiday, we are offering you the Adriatic and the beautiful Croatian islands. With Kairos Trogir you can visit the Croatian coast on traditional wooden ships – gulets or modern sailing boats. Explore our offer and discover the hidden beauty of the Croatian coastline!!!
If you can't sail from Trogir, don't worry we have gullets departing even from Rijeka, Dubrovnik and Zadar, just contact us!!!
In order to help you with your choice, we have divided the vessels of our fleet into four different categories. Of course, these categories do not substitute the description of each single ship, as they vary individually.
Comfort: Wooden motorized sailing boats with cabins including bunk beds or queen-size bed and private bathroom facilities (shower and WC). Air conditioning is provided in the cabin alleyway of the lower deck.
Comfort Plus: Motorized sailing boats either with a wooden or a steel hull. Cabins feature bunk beds, separate beds or queen-size bed and private bathroom facilities (shower and WC). Furthermore, each cabin is equipped with individually controllable air conditioning
Premium: Comfortable and modernly designed motorized sailing boats and motor yachts, mostly with steel hull. Our premium vessels offer upscale service, comfy cabins with separate beds or queen-size bed and private bathroom facilities (shower and WC) as well as individually controllable air conditioning. Most vessels feature a bathing platform at the stern.
Deluxe: Luxury steel-hull motor yachts offering upscale service, spacious and comfortable cabins with separate beds or queen-size bed and private bathroom facilities including a shower stall and a WC. All cabins are equipped with individually controllable air conditioning. Further amenities include a covered lounge area on the upper deck and a bathing platform at the ste