step 1
"LET'S meet & unload your bags"
Your apartment itself is located in a walking zone but you can enter the city center parking for free for 20 minutes and stop very close to your accommodation (the closest point is by the parking meter). The city center parking, called "FORTIN" (click to see the map), is very expensive, especially in summertime when it costs 25 kn (about 4 €) per hour. Park your car and wait for us at the parking paying meter. Don't forget to text us 30 minutes prior to your arrival in Trogir!
Fortin parking entrance
Approach to the barrier, take your ticket and drive to the middle of the street where you will find the parking meter.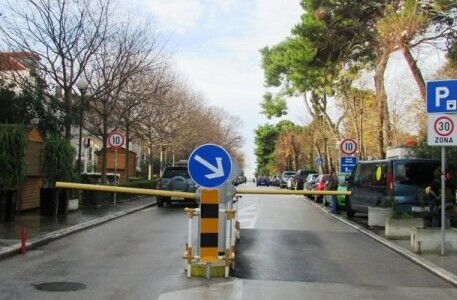 Meeting point
This is how the parking meter looks like.
Dragana, Natalia, Anna or Daria will be waiting for you there.
step 2
"LET'S walk to your accommodation"
After meeting, we will follow you to your accommodation. Your lodging is within 100 up to 300 m from the Fortin parking. Now that you have the keys of your lodging and that the bags are unloaded, got to the parking meter, endorse your ticket and go to your car and follow the instructions provided in the next step.
step 3
"LET'S find the parking lot"
Google maps location: AMC Trogir (click to see the map).
Leave the city center parking (if you are parked longer than 15 minutes please endorse your parking ticket at the paying machine before leaving the parking), turn left across the stone bridge and then again left on the main road.
Drive about 350 m and turn right (on your right side you will see the Nova rent car office) and then immediately right at the barrier. Click to see the VIDEO.
To access the parking just use the provided remote; if we didn't give you any remote, then our colleague Boris or Mario will open the barrier.