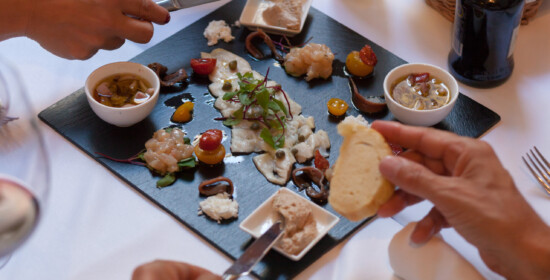 Where to eat in Trogir (best restaurants in Trogir – spotted by locals)
Trogir is a small medieval town between Šibenik and Split.
Probably Trogir is one of the best places on the Croatian coast to be introduced to the Croatian cuisine. Why in such a small town you can see the highest concentration of restaurants for fine dining and comfort traditional food? You may know that in big touristic cities all experienced travellers are looking for "secret places where only locals eat", and usually food there is just above and beyond. Well, since Trogir is so small, locals and tourists eat at the same places. Conclusion – all restaurants serve amazing food!
We created our own rating of the best places to eat in Trogir, check it out!
Restaurants
Vrata o Grada. Located on the main promenade next to the Gate of the town (literally Vrata o grada means "Gate of the town"). We recommend this restaurant for a breakfast – what can be better in the morning than having your coffee and omelette with a picturesque view? They have rich breakfasts, including super food ones (acai bowl). However, dinner and lunch there can also surprise you in a good way.
MUST HAVE to try: pasta with seafood, risotto with baby shrimps, salad with grilled tuna and (wait for it) vegetarian lasagna!
Vrata o Grada is open even during the winter, 9am-11pm (check the time changes on google page).
Konoba TRS. This restaurant is located nearby the Main square of Trogir, Konoba TRS is in the Michelin guide. Cozy terrace under grapes ceiling on the yard of 500 years old building. Michelin experts know stuff for sure, because TRS is one of the most favorite places for fine-dining in Trogir and Dalmatia in general. Traditional food from local products, exquisite meals, fantastic service.
However prices in Konoba TRS are not different from other restaurants in Trogir. Fine dining for 12€ per meal? It's Trogir!
MUST HAVE to try: everything. Especially Octopus, tuna steak, homemade pasta with veal and truffles, prawns tartar, homemade wine (wine map is very impressing though, ask your waiter what will compliment the food you ordered).
DON DINO restaurant.
Restaurant Don Dino is located on one of main streets, inside the old town. DON DINO is one of the oldest restaurants in Trogir, wisely keeping traditional meals in the menu and adding something innovative (pea soup with mint for example) every year. It's the restaurant where you can have a fine dinner or enjoy comfort Croatian food (just imagine if you had a Croatian grandma, she would cook something like this but with innovative serving, when there is a masterpiece on your plate). DON DINO restaurant has the best tuna in the town, recently added SUSHI in their menu and already jumped to the 1st place in a list "best sushi in Croatia"
MUST HAVE to try: black tagliatelle with sea food, SUSHI (get with tuna), pasticada (traditional stewed meat), monkfish cigars, scampi buzara.
Pizzeria Kristian 
Located on one of small streets in the Old town but easy to find because it smells so juicy!
When you ask a local about the best pizza, the answer will be – "Kristian". Right, we definitely like pizza in there. Also fried squids, lasagna. Portion size – to share! Comfort food, extremely friendly staff, shot of cherry rakija as a compliment for each guest after meal. Perfect place for a carb fest with friends.
MUST HAVE to try: pizza, garlic bread, lasagna, homemade pasta bolognese.
Bocel. The best fish restaurant in Trogir and around – without exaggeration. Located in SCT Trogir charter base next to ACI Marina, has a terrace with the sea view. Good for romantic dinners, fine dining and for meetings with friends. Very accurately selected choice of wine, sweetest oysters and excellent service. MUST HAVE to try: tuna tartar with prosecco, the grilled squid, plate of appetizers, oysters.
Franka. New restaurant, opened in 2021 and became popular because of espresso martini and interesting combinations (ravioli with cream cheese and beetroot, tuna tartar with apple and so on). Franka is going on vacation from November until May. Dinner on the medieval yard and wine from Hvar will make your Trogir experience unforgettable. MUST HAVE to try: Seafood pot for two, salad with shrimps and truffles, espresso martini.
Kamerlengo. One of the oldest restaurants in Trogir, Kamerlengo concept is to prepare food according to ancient homemade recipes. They have the best grill in the town and impressive selection of fish that you can order to grill with your own preferences – swordfish, lobster, tuna, monkfish and bream will be served as you wish: with rosemary or garlic, onion or on butter. You choose your perfect meal. MUST HAVE to try: homemade rožada (a type of custard pudding), grilled fish or meat, "skampi buzara" (grilled shrimps with a rich sauce).
Wild West Trogir. Burgers and MEEEEAT. Very juicy and delicious! They also have vegetarian burgers and good tap beer. Locals like it in WW (no pasta and lasagna in the menu – maybe it's the reason).
Mirkec. Pizza, pizza, more pizza! Comfort food for the carb fest.
Buffet Leptir. Nothing fancy, just really nice takeaway food for a lunch. Especially when you're fed up with kebabs and would like to have a proper meal. Place the order via phone or via their Facebook page!
Coccolo. Croatian grill that you can have after shopping or gym in Marissa center.
Barba. This konoba is very simple and mostly for locals. Located in Seget Donij, on the main street between Trogir and Seget Vranjica. Fresh fish and delicious meat!
Frankie. A bit far from the center, next to Marina Baotić harbor. Skippers and sailors recommend to try grilled chicken and homemade pasta there. Prices will surprise you in a good way.
Intrada. You can get there by car or bus #37. Charming atmosphere, high quality and delicious food, big portions.
Restaurant Baletna škola. You can get there by car or bus #37. Name of the restaurant can be translated as ballet school. No worries, they have something better than rice and carrots in the menu. It's a very cozy restaurant with a terrace which can fit up to 30 people. Perfect for meeting with other digital nomads.
Caffes/Bars/Coffee places
Disclaimer: Most of coffee places are turning into bars even before the sun goes down =)
Corte bar. The main square one. Coffee with sun rays and evening cocktails. Something like in Venice, something like in Rome. The main square is the main magical spot in the town, take a seat and one of Muses will visit you ASAP.
Martinino. It's the real bar, sometimes people even dance in there. But mostly they drink and talk. During the day you can seat there with a laptop, for the evening – meet locals and chill with your friends.
Korado. We would describe it in the same way as Martinini. But for evenings on Fridays they have DJ! (nobody is dancing tho).
Gallion bar. Bar/pub/caffee. Mostly good for beer and cocktails with gin.
Smokvica. In Croatian the name means "small figs". Quiet place to have your own peace.
Tomislav. Next to the fresh market with the channel and bridge view. (Sorry, it's not Rialto bridge in Venice, but it's way sunnier and not as busy). Locals like to have a cup of coffee in there after doing grocery. There is a bakery next to Tomislav, where you can buy some pastry and get the perfect breakfast combo.
Disco Club Monaco. There is no Disco and it's not a club (actually used to be but not anymore). They have good coffee, visit them on weekend, when bridge construction sound won't ruin the impression.